MEET OUR ALUMNI
SPOTLIGHT:  Yu Yan and Zilong Wang
Yu and Zilong lived at International House Ann Arbor from 2013-2014. As a couple, they lived together in Apartment 107 on the second floor. Yu was a graduate student at the Lieberthal-Rogel Center for Chinese Studies and earned her Master's degree after that. Zilong received his Master's degree in Applied Economics. After graduating, they returned to China. Yu speaks for both herself and Zilong in her thoughtful answers to the questions below.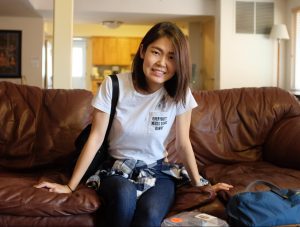 How did you discover International House Ann Arbor?
"When I arrived in Ann Arbor in 2012, one the first meetings with classmates was at IHAA where one of them lived. I was amazed at how nice and welcoming it was. I made the decision right then to apply to live here."
What attracted you to International House Ann Arbor?
"We enjoyed the diversity of nationalities within the building. Neighbors were the best. Before I moved into IHAA, we lived down the block. It was also a nice building with good facilities BUT we didn't feel community there; I didn't know my neighbors, not even next door. Even co-op houses lack what IHAA offers. America is an immigrant country but that does not make it easy to live with neighbors from everywhere with various backgrounds. IHAA is an international community where people embrace all cultural differences."
What did you love about International House Ann Arbor?
"One thing I loved about IHAA was that we always received instant help from management whenever needed. The staff felt like neighbors as well. One time our car died and Stoney, the Facilities Director, used an electric pump to save us. Two managers during our time, Rosanna and Jessica, were both enthusiastic and helpful. Bruce, the Executive Director, is also super friendly. It brings sunshine to your overseas-study life when you actually have personal communication with staff rather than simply getting a package handed through a window. IHAA is home."
How did living at IHAA help your career?
"I work on policy in the field of US-China commercial relations. The interaction between these two countries has always been an interest but IHAA allowed me to step out of my personal view to see it from the bigger world, beyond my imagination. Today, many of my then-neighbors have also returned to their home countries. As a result, I have many Facebook friends who post in their native languages, which I do not understand. But whenever we meet and whenever we message each other, we all use English to share our beautiful memories. IHAA brought us together from all over the world and gave us an amazing experience that can only be shared within this group."
What's the best thing you learned from the IHAA Program of Global Engagement for Understanding?
"There are many programs at the University where they try to bring people together and make them appreciate each other's cultures. Not many succeed. Sometimes it's because people are naturally defensive about protecting themselves from different cultures. But IHAA succeeds. In the first place, it's a warm and safe space to live. What follows from one's love for the space is an appreciation for the people sharing that space with them. It's about working together to make their community better. Then, people learn to understand and appreciate each other's background in an environment where they've invested their efforts. That's my understanding of the experience. People won't appreciate each other simply because they are in the same room. Intercultural awareness develops from this overall system where everyone listens and talks and most importantly, feels well-protected. From my experience, it's more like this appreciation  – developed by living at IHAA – helps people stay connected even THOUGH there are issues that divide them. The world is complicated and historic factors matter but IHAA teaches us to see a person as himself/herself, rather than judge a person by his/her cultural background. I think that's the best thing I learned."
Do you recommend living at IHAA?
"I strongly recommend IHAA to others, especially international students. I would love to tell current residents how lucky they are to have chosen this place to live and learn together, if they haven't already noticed. We would definitely stay at IHAA if I we ever get the chance to live in Ann Arbor again. In fact, we always try to layover in Detroit when we travel to the US, just so we can visit.
What are some favorite memories of living at IHAA?
Walking together to Spanish classes with an IHAA neighbor from Malaysia.

Playing board games with more than ten people each from a different country. How many of us can say we've had that experience?




Learning to make tiramisu from an Italian who led this dessert-making event. Then eating our desserts and watching television together.

Talking about international politics but always in a way that respects one another.