GEU OVERVIEW
Global Engagement for Understanding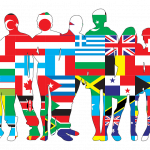 The GEU Program supports IHAA's vision of a caring, connected, informed global community based on intercultural growth and friendships through its integrated RESIDENTIAL, EDUCATIONAL, and SOCIAL Programs.
Global Engagement for Understanding serves IHAA residents, campus members, and members of the greater Ann Arbor community by offering programs that develop skills in intercultural effectiveness, interpersonal resilience, and global understanding. IHAA residents assess their individual Intercultural Growth as they develop skills critical to global citizenship.
GEU programs are divided into four Focus Areas. Individuals choose to participate in those programs that will help further develop their intercultural awareness. All are invited to earn a GEU Certificate for professional, academic, or civic purposes.
Numerous organizations support the GEU Program as our Program Partners.
At I-House Ann Arbor,
Our context is Global, Our method is Engagement, Our goal is Understanding.